Mascara Tips & Tricks
Oct 13th 2020
These tips are offered to provide a starter guide as to what mascara and application method might work best for you.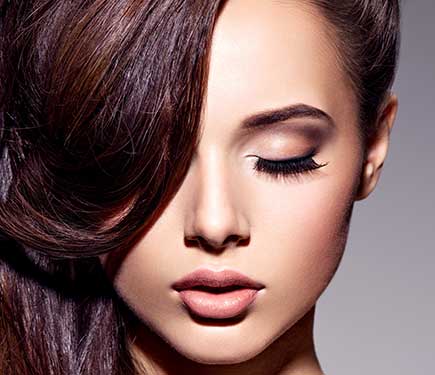 Fill In
Prior to applying your mascara, use a liquid eyeliner with a sharp tip or a felt tipped eyeliner to dot at the base of your lashes in between the lashes. This will allow you to fill in any sparse areas and offer a great base for a full lash look.
Base Coat
Use a lash primer such as Diorshow Maximizer 3D Lash Primer or Lancome Cils Booster XL to prime and condition your lashes, creating the perfect base for your mascara and intensifying its effects. If you're in a pinch and don't have a lash primer, use a brush or wand to coat lashes with an eye primer. Allow primer to dry fully prior to applying mascara.
Thorough Coverage
Cover lashes from root to tip. Start with the wand at lash roots and wiggle all the way out to your tips giving thorough and full coverage. Don't zigzag or pull across the lashes as that will shape your lashes in whatever way you pull. A small, simple zigzag movement works best.
Create Full Lashes
Coat both top and bottom of lashes upon application. Apply your first coat of mascara to the top side of lashes and follow with a second coat on the underside (as normal) to lift lashes up and complete coating.This will afford you thicker, fuller lashes.
Excess
If you have a mascara formula that is new or has excess product on the wand, wipe the excess mascara on a clean, non-linting paper towel prior to application. Your inclination might be to wipe it back on the top of the tube as to not waste product. This practice can lead to a buildup of dry, clumpy mascara in and around the top of your tube and will cause issues with the longevity of your product. A better idea to assure full usage of product would be to wipe excess and apply as an eyeliner with a small brush. You now have lush lashes with matching eyeliner!
Thick Mascara
Prior to application, soak tube in glass of warm water to warm up mascara. This will allow for thinner mascara and easier application with less clumping.
Create Long Lashes
Applying multiple coats of mascara and allowing to dry between coats will create thicker, longer lashes. Drying in between allows for better adhesion and less clumping.
Ease of Application
For better reach and control on application, pull your wand out of tube until just the wand head (applicator) is left in the tube and bend slightly.
Mistakes Happen
Remove application mistakes off lids and under eyes with a cotton swab dipped in makeup remover or coconut oil.
Choose The Right Wand
Choosing the proper wand for your eye shape and lash type can be the difference between creating the perfect look or maddening mess.
Small Eyes - use a small and/or skinny wand which will provide the perfect coverage and product amount.
Short Sparse Lashes - a comb-like wand works best to assure coverage of each individual lash.
Straight Lashes - benefit from a curved wand which helps curl during coverage
Short Lashes - choose a product with a pointed or ball shaped end. The bristles on the tip will allow for easy access to corners and hard to reach lashes. Coned tips are another good choice as they are thinner on the tip.
Thick Lashes - benefit from a jumbo and/or bristle mascara brush as it will offer great volume and thickening.

Overall... Bristle brushes will offer volume, fullness, thickness and are gentler for sensitive eyes. Plastic brushes offer more definition, separation and less clumping.
The very best mascara and application method is whatever works for you!