Luxury Spa Quality Mask In The Comfort Of Your Home
Apr 9th 2018
As a general rule, the skin on our face is put to the test on a daily basis. Our facial skin sees more sun and wind, experiences more temperatures and deals with more product than any other skin on our bodies. In order to keep a healthy, youthful complexion, it's important to pay attention to every part of your skincare routine. Whether you're a simple gal who washes with with a gentle cleanser in the evening, applies moisturizer after showering and wears minimal makeup, or if you're a go-all-the-way gal with complex routines and a plethora of makeup products, we have the perfect addition to your skincare plan.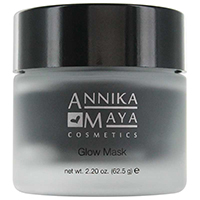 Annika Maya Glow Mask deep cleans and leaves the face soft, smooth and healthy. This charcoal formula mask contains Binchotan White Charcoal Powder to draw out dirt and pore-clogging debris, Sodium Bicarbonate to prevent problem-causing bacteria and absorb excess oil, and Glycerin to provide intense hydration. The warming sensation of this incredible mask will have you feeling like you've stepped into a luxurious spa without having to leave your home.
To use, simply apply a generous amount to your dry face leaving on for five minutes. Next, wet hands with warm water and massage into skin to activate. Remove with moistened cloth and rinse well with warm water. Follow with your favorite moisturizer and enjoy your rejuvenated skin.
Save time and money and treat yourself to a luxury spa mask at home today!
Check out our Instagram to see a mini-vid with Sadie Lynne (Sadie Lynne Beauty) as she enjoys a deep cleaning session.