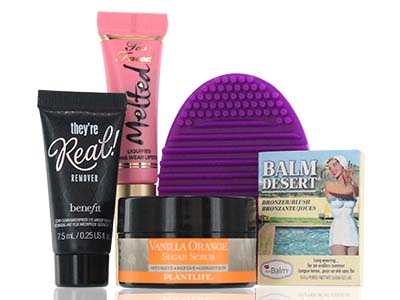 For a chance to win all items shown here, fill out the form below.
Prize includes: Benefit - They're Real! Eye Makeup Remover (7.5ml), Too Faced - Melted Peony Liquid Lipstick (5ml), Brushegg - Brush Cleaner Tool (purple), The Balm - Balm Desert Bronzer/Blush (.8g), Plantlife - Vanilla Orange Sugar Scrub (1oz)
In the comment field, share the last item you ordered from our store or an item from your wish list.
Winner will be randomly drawn and announced on our blog (Monday) May 22, 2017.
RULES
(Must be at least 18 years old to enter. Give-a-way open to entrants of countries where law permits. Winner will be contacted promptly and is responsible in providing a proper mailing address for the purpose of prize delivery. It is up to the winner to respond and claim prize. If a response has not been provided in the alloted time given, winner forfeits their prize. Prize and shipping will be at zero cost to the winner. Brigette's Boutique reserves the right to cancel contest at any time for any reason. By entering give-a-way, entrant agrees to indemnify, release and hold harmless Brigette's Boutique and all Brigette's Boutique employees, owners, and representatives from any liability, damages, losses or injury resulting in whole or in part, directly or indirectly, from that entrants participation in the give-a-way and acceptance, use, or misuse of any prize won.)